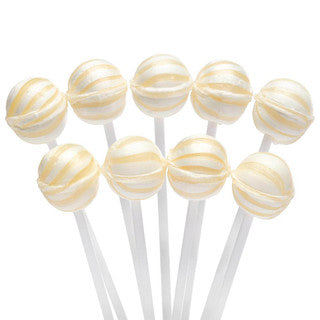 Sassy Spheres Petite White
---
---
---
These tiny Striped Ball Lollipops are small, vibrantly colored, and make a big impact on the scene with their flashy look and potent fruity taste. Thick white and off-white stripes stretch happily across the baby pop's spherical surface, invisibly tied on either side of the hard candy bit. A half-inch sized pineaple-flavored sphere sits atop a stick that measures a little over an inch and a half, making this delightful confection the perfect individual topper to cupcakes, or en masse as an ideal adornment for a gourmet cake for a circus or boardwalk-themed birthday party.

Sucker Specifications-
Diameter: 1/2 Inch
Total Length: 2.5 Inches
Flavor: Black Pineapple

Bag contains 300 White Sassy Suckers Petite Striped Ball Lollipops.
---
Share this Product
---
---