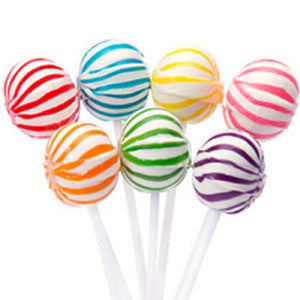 Sassy Spheres Petite Assorted
---
---
---
These tiny Striped Ball Lollipops are small, vibrantly colored, and make a big impact on the scene with their flashy look and potent fruity taste. Thick stripes stretch happily across the baby pop's spherical surface, invisibly tied on either side of the hard candy bit. A half-inch sized fruit-flavored sphere sits atop a stick that measures a little over an inch and a half, making this delightful confection the perfect individual topper to cupcakes, or en masse as an ideal adornment for a gourmet cake for a circus or boardwalk-themed birthday party.
Assorted flavors:
Pink - Strawberry
Purple - Grape
Blue - Blueberry
Green - Lime
Yellow - Banana
Orange - Orange
Red - Cherry
Sucker Specifications-
Diameter: 1/2 Inch
Total Length: 2.5 Inches


Bag contains 300  Sassy Suckers Petite Striped Ball Lollipops.
---
Share this Product
---
---